The Hookup Plan by Farrah Rochon
4.5
The Hookup Plan
Boyfriend Project
Contemporary Romance
Forever
August 3rd, 2022
E-book, Paperback and Audio
400
Strong female friendships and
a snappy enemies-to-lovers theme take center stage in this highly anticipated romantic comedy from the
USA Today
bestselling author of
The Dating Playbook
.
Successful pediatric surgeon London Kelley just needs to find some balance and de-stress. According to her friends Samiah and Taylor, what London really needs is a casual hookup. A night of fun with no strings. But no one—least of all London—expected it to go down at her high school reunion with Drew Sullivan, millionaire, owner of delicious abs, and oh yes,
her archnemesis
. Now London is certain the road to hell is paved with good sex. Because she's found out the real reason Drew's back in Austin: to decide whether her beloved hospital remains open. Worse, Drew is doing everything he can to show her that he's a decent guy who actually
cares
. But London's not falling for it. Because while sleeping with the enemy is one thing, falling for him is definitely
not
part of the plan.
The Hookup Plan by Farrah Rochon
The enemies to lovers romance that will make you catch feelings right along with the characters.
London & Drew
London is a bad-ass pediatric surgeon that with all that notoriety and work ethic, is in need of finding ways to decompress and self care. After much needed advice from her besties (that we have met in past books) convince her that she needs to let off some steam with some hot nights with a partner. But for a busy surgeon, it's not that easy.
Insert a good old high school reunion where she sees her old nemesis Drew and just like in all genius rivals to lovers story, the fuel behind the hate is also the fuel to heated moments. After the heated night with Drew, London learns that Drew is in town for a huge reason. He is in town to audit her hospital! Her hospital has been in a financial crisis for some time now.
London now has to play nice with Drew after years of full on animosity and all that banter is the tension I am needing in my life at this moment. They end up developing a hooking-up system to let off steam, but not getting attached. (Do we love when they still fall for each other? YES WE DO!!)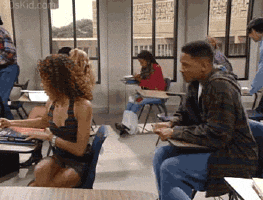 Do I recommend?
Heck yes I do!
I love that Farrah Rochon took time to break down emotional development for both London and Drew. Their journey to fall in love is so beautiful. Especially since Drew has been secretly crushing and pinning over London since back in the day. We love a long standing pinning.
As per usual with the Boyfriend Project series, The Hookup Plan has great showcasing of female friendship. The group of girlfriends is still the best ever with laughs, great advice, and unshakeable bond. I will also never tire of seeing successful and driven women being fawned over by swoony heroes, NEVER!
The Hookup Plan by Farrah Rochon is out today and I urge you to pick up a copy! This is top tier, top shelf enemies to lovers goodness that will set your heart on fire! *please note that is an affiliate link*
Carla is a born-again bookworm originally from Puerto Rico. Becoming a mom is what drove her back into the love of reading. Starting with the love of Romance books but now she enjoys any epic tales that are well written. She's a mom of three, a wife, and resides in Central Florida. Hurricane news doesn't scare her but finding out a second book in a series doesn't come out for another year will send her into a real panic. Sending her chocolate and another great book works best to support her through such times.