Covet They Neighbor's Gargoyle
4.5
Covetousness
Havenwood Falls
Paranormal Romance
Ang'dora Publications
September 22, 2017
Welcome to Havenwood Falls, a small town in the majestic mountains of Colorado. A town where legacies began centuries ago, bloodlines run deep, and dark secrets abound. A town where nobody is what you think, where truths pose as lies, and where myths blend with reality. A place where everyone has a story. This is only but one…
Graysin Ravenal hasn't seen her sister in years, but when she learns Jenni has mysteriously died in a library fire, she leaves her upscale beach community for the mountains of Colorado in search of answers. She needs a job, and Havenwood Falls happens to need an interior designer for the new library. The last thing she needs, though, is to fall for the dark and sexy Everett Weston, aka her new boss.
Their undeniable mutual attraction aside, keeping their relationship professional proves impossible as their lives collide in more ways than one.
Graysin finds herself immersed in a world heavily guarded by secrets and lies—a world Everett seems to know quite well, making him her only hope in finding the answers she seeks. As they work together to unlock the mystery surrounding Jenni's death, their ever-increasing passion must be denied, no matter what their hearts say. Because the story they're thrown into is one of desire and danger that not only uncovers a centuries old secret that could destroy the town, but also reveals the darkness of Graysin's family's past—a darkness that changes her life forever. And some secrets just can't be forgiven.
This is a New Adult paranormal romance in the Havenwood Falls series of New Adult and Adult fantasy novellas featuring a variety of supernatural creatures. The series is a collaborative effort by multiple authors. Each book is generally a stand-alone, so you can read them in any order, although some authors will be writing sequels to their own stories. Please be aware when you choose your next read. We do recommend that you read Forget You Not first as an introduction to the town and its eccentricities.
Other books in the main Havenwood Falls series:
Forget You Not by Kristie Cook
Fate, Love & Loyalty by E.J. Fechenda
Old Wounds by Susan Burdorf
The Winged & the Wicked by T.V. Hahn & Kristie Cook (Oct. 27, 2017)
Books are released on a monthly basis. Coming soon are stories by Lila Felix, R.K. Ryals, Belinda Boring, Heather Hildenbrand, and more.
Watch for Havenwood Falls High, a Young Adult series launching in October 2017.
Immerse yourself in the world of Havenwood Falls and stay up to date on news and announcements at www.HavenwoodFalls.com. Join our reader group, Havenwood Falls Book Club, on Facebook at https://www.facebook.com/groups/HavenwoodFallsBookClub/
I Shall Covet Thy Neighbor – the Gargoyle
Whenever a new book makes its way to my Kindle from the sassy spitfire Randi Cooley Wilson, I expect greatness. She's set the bar high; her gargoyles are my reverse harem fantasy. =)  But when I heard she was participating in the joint Havenwood Falls venture with some of my favorite authors, I was really interested in how it would work.  Not an anthology, HF is instead a collection of books and novellas set in the same fictitious town full of supernatural
characters (it even has a spinoff YA series called Havenwood High!). Wilson's gargoyles are so very unique – and living in their own very developed world – I wasn't sure what she would bring to this new project.
The answer: Everett Weston.  Hot sexy, daaaaaaaaaaaamn gargoyle deliciousness.
Wilson's novella follows intrepid Graysin Ravenal,  in search of answers to her sister's sudden and shocking death, in the festival-filled hamlet of Havenwood Falls, Colorado.
Before I go further, I now want to adopt a baby so I can name her Graysin – or convince one of my kids to add it to their future names list.  Ok, aside over.
So Graysin comes to a town filled with witches and wolves, Romani (gypsies) and gargoyles. She is clearly seeking 
more than just the truth of Jenni's death. Graysin is searching for her own life, in her own world. She's outgrown her childhood home and she wants a chance to put her interior design chops to the test.
She finds challenges, friendship, mysteries and some serious lust, too.
I am absolutely stunned that Randi is able to create such a developed character arc in the short span of a novella, and yet somehow she does.  Graysin feels real, and as though she is growing. From her first caffeinated disaster at Coffee Haven through to her Founder's Day resolutions, she figures out who she is.
So, now let's talk about Everett.  A member of the Barcelona clan, I desperately love that he is so different from her other protectors. They each have such unique personalities, and he is no different with his quiet strength.  He has none of Asher St. Michael's bossy dominance, or Gage Gallagher's dark. broody deliciousness.  Instead, he is the quite constant we all want to be behind us, loving us when we don't even know we need it or want it.
Now, let's talk about 69%.  Ladies and gents, at 69% of this book, you will find yourself squarely in one of the hottest sex scenes I have read in a while. It isn't dirty; it isn't gratuitous. It's just ?. I asked Ms. Wilson about the numerical significance and she claims it's a coincidence.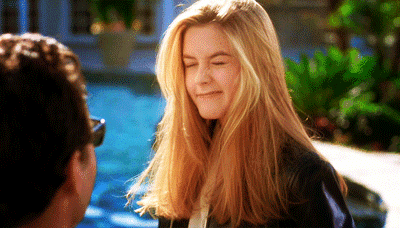 Mhmm.
So, what I love… it's a fun sidestep out of the traditional protector world and into a new landscape. I love the characters – all of them – and look forward to reading more in the HF world.  I love her nods to her gargoyle books, and was particularly touched by the inclusion of Camilla Gallagher's name. I suspect there will likely be some crossover action in her upcoming release, Dark Paradise, as Everett and the Gallaghers have clearly crossed paths.
What didn't I love… well, I want more.  I am a selfish beast and I need to understand all the things. I want to know "who's the daddy???" (read it to understand) and what's the backstory of the Barcelona clan? What are Roman and Ada doing?  Why aren't buns standardized to fit the hot dog?
It's just so much I need, and I know Randi can't give it ALL to me, but maybe a little more?  Maybe something in the future?
Say maybe? 😉
So should you read this?  Yes.  If only for 69%, friends. If only for 69%.  But in truth, if this is what we have on the horizon with Havenwood Falls, I am truly excited to see what everyone brings to the center of town.  I'll be waiting with a plate and a purple pig!
Get it here:
Meg, AKA the Queen Bee (QB) founded LitBuzz in 2015 as a way for her favorite authors to more-readily provide books to a legitimized reviewer. At the time, she never thought it would grow to include a dozen people, hundreds of authors and thousands of reviews.
Most of the time, you can find her with a bulldog at her feet in her home office in Pittsburgh, writing content or developing brand campaigns for clients – or sneaking a quick read of a new release.
She's married to a great guy, has two amazing grown daughters and more animals than sense. 😉