4.5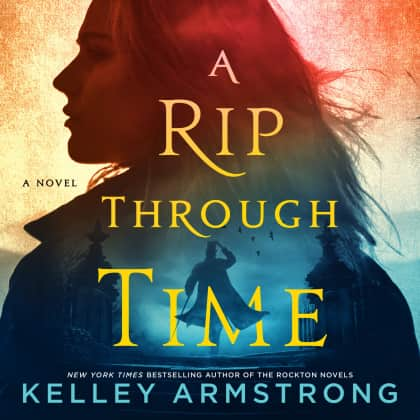 A Rip Through Time
Rip Through Time Novels
Macmillan Audio
May 31, 2022
audiobook
Homicide detective Mallory is in Edinburgh to be with her dying grandmother. While out on a jog one evening, Mallory hears a woman in distress. She's drawn to an alley, where she is attacked and loses consciousness.May 20, 1869: Housemaid Catriona Thomson had been enjoying a half-day off, only to be discovered that night in a lane, where she'd been strangled and left for dead … exactly one-hundred-and-fifty years before Mallory was strangled in the same spot.When Mallory wakes up in Catriona's body in 1869, she must put aside her shock and adjust quickly to the reality: life as a housemaid to an undertaker in Victorian Scotland. She soon discovers that her boss, Dr. Gray, also moonlights as a medical examiner and has just taken on an intriguing case, the strangulation of a young man, similar to the attack on herself. Her only hope is that catching the murderer can lead her back to her modern life … before it's too late.In A Rip Through Time, New York Times bestselling author Kelley Armstrong introduces a brand-new series mixing mystery, romance, and fantasy with thrilling results.A Macmillan Audio production from Minotaur Books.
I'm so glad I caught this audiobook on sale! It has time travel, murder mystery, and well written expressions of diversity in race and orientation.
Mallory is in a fight for her life in a dark alley in Scotland circa 2019. As a modern day detective from Canada, she should have known better than to fall into the trap of her attacker. When she regains consciousness, she's a house maid in the Victorian era. Naturally she doesn't exactly understand that right away, and it takes quite a bit of effort for her to step into the life of "Katrina". Mallory looks and sounds like Katrina. Imagine seeing someone else in the mirror! Mallory does her best to blend in with the household staff. While doing so, she also tries to stop the serial killer that had attacked Katrina in 1869, and hopefully return to her life in 2019.
The narration by Kate Handford really kept me interested in the story as it spanned a little longer than I expected. The author takes us through a moderate book pace as modern day Mallory adjusts to 1869. With Hanford's narration, I became very invested in the outcome of Mallory, even in the slower moments of the story. Switching between her Scottish and English accents as she bounced between her role as Katrina and true self. It was easy to follow the story with the different cadence of each character. I'm so glad that she also narrated the sequel which comes out May 23rd, The Poisoner's Ring.
I've just received the sequel, The Poisoner's Ring, on audiobook in exchange for my honest opinion of the story! I'll be looking for every opportunity I can to be in my car where I listen to my audiobooks.
If you hurry, you might catch this audiobook for $3.99 on chirp.com! -This is not an affiliate link.
Kristin lives in the PNW with her husband, and three kids. She loves to read YA fiction, fantasy, and romance. She's recently entered the world of "Booktok" on Tiktok, and is having way too much fun following the trends of young folks. The only shows she watches are re-runs, and if she's not reading a book she's listening to one.