Brainy Sex? Yes, please!
5
Love on the Brain
Contemporary Romance
Berkeley
August 23, 2022
368
A #1 LibraryReads and Indie Next Pick! From the New York Times bestselling author of The Love Hypothesis comes a new STEMinist rom-com in which a scientist is forced to work on a project with her nemesis—with explosive results. Like an avenging, purple-haired Jedi bringing balance to the mansplained universe, Bee Königswasser lives by a simple code: What would Marie Curie do? If NASA offered her the lead on a neuroengineering project—a literal dream come true after years scraping by on the crumbs of academia—Marie would accept without hesitation. Duh. But the mother of modern physics never had to co-lead with Levi Ward. Sure, Levi is attractive in a tall, dark, and piercing-eyes kind of way. And sure, he caught her in his powerfully corded arms like a romance novel hero when she accidentally damseled in distress on her first day in the lab. But Levi made his feelings toward Bee very clear in grad school—archenemies work best employed in their own galaxies far, far away. Now, her equipment is missing, the staff is ignoring her, and Bee finds her floundering career in somewhat of a pickle. Perhaps it's her occipital cortex playing tricks on her, but Bee could swear she can see Levi softening into an ally, backing her plays, seconding her ideas…devouring her with those eyes. And the possibilities have all her neurons firing. But when it comes time to actually make a move and put her heart on the line, there's only one question that matters: What will Bee Königswasser do?
I will start by saying that I buck conformity and refused to read The Love Hypothesis, no matter how many times Ali Hazelwood's cute cover popped up in recommendations in my fyp. I couldn't help it; I've been burned too many times before (I'm looking at you, Zodiac Academy and Normal People.)
Begrudgingly, I opened Love on the Brain by Ali Hazelwood to fulfill my reviewer duties – no more, no less.
So imagine my surprise when I start getting to know quirky, adorable Bee and think, "I like where this is going." It wasn't just all the tropey goodness:
enemies to lovers
forced proximity
second chance romance
It was also the awkward hotness of Levi, and the utter cuteness of who they started to become as a couple.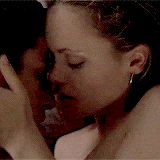 And, please, don't get me started on the sexytime, because Levi Ward is bringing the 5? hotness like it's his damned JOB.
Bee's intelligence, self-awareness and general spunk all won me over as my kinda main character, and I found her both vulnerable and believable. Levi's devotion was both heart and panty-melting. Join me, won't you, and read the following quote:
I mean, come on, the sexiness is overpowering!
If you haven't yet picked up Love on the Brain by Ali Hazelwood because you're a fool like me, make good choices. Here; I'll make it easy for you:
Meg, AKA the Queen Bee (QB) founded LitBuzz in 2015 as a way for her favorite authors to more-readily provide books to a legitimized reviewer. At the time, she never thought it would grow to include a dozen people, hundreds of authors and thousands of reviews.
Most of the time, you can find her with a bulldog at her feet in her home office in Pittsburgh, writing content or developing brand campaigns for clients – or sneaking a quick read of a new release.
She's married to a great guy, has two amazing grown daughters and more animals than sense. 😉