Of the Blood
Heir of Blood and Fire
Fantasy
May 14, 2020
Kindle E-book
432
One malicious prince. Two rival kingdoms. And an innocent girl caught in the crossfire.
Raised in a war-ravaged continent, temptation comes to Calla Caldwell in the form of a charming and mysterious stranger. Giving in to his intimate seduction, her world is forever changed by a single bite.
Calla quickly learns the handsome stranger is vampire prince, Trystan Vladu. His bite was an attempt to claim and save her from a plot of vengeance generations in the making. However, the claws of that ancient vendetta are scraping ever closer.
Thrust into a new nightmare by the Prince of the corrupt kingdom of Morbeth, Calla is captured, tortured, and starved in the dank confines of his dungeon. While in captivity, she takes part in a séance with a witch of light where she contacts a departed relative—a Princess of Incendia—who bequeaths a gift to Calla that will tip the scales of good and evil . . . if she can learn to harness it.
With a dark tapestry of secrets, lies, and murder unraveling around her, Calla must learn to embrace the power roiling through her veins, or be snuffed out by the strangling fist of a malevolent darkness.
Blood, Magic, and other Spooky Season Thrills
Of the Blood is a fun Halloween season read; featuring vampires, witches, and other assorted mythical creatures. There is plenty of doom and gloom in the form of an evil vampire prince obsessed with wielding power in the form of dark magic, malevolent sea monsters, and hellish forest creatures that need to be avoided.  These forces of evil are counterbalanced by a kind and refined vampire prince, an honorable merman prince, and a benevolent magical princess guardian angel. However, it is this wide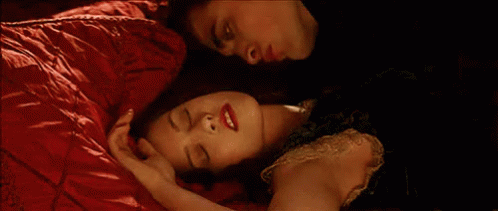 ranging cast of magical characters that made this book fall a bit flat for me, as it seemed there was never any real conflict or burden placed on the characters as they jumped from event to event, with little explanation or linkage.
The protagonist, Calla, seems to find herself perfectly equipped to deal with each emergency she encounters, whether it is through finding that she can wield fire magic against vampires and other unsavory types, or finding that she can manipulate water allowing her to fight sea monsters, or simply that she is an heir to several different thrones and has a host of allies willing to come to her aid. Calla is at turns whimpering and weak, and stubborn and powerful, but never seemed to truly develop as a
character worthy of sympathy. It was the supporting cast of characters that kept me turning the pages, wanting to find out what would happen next, and that left me desiring to read the next book in the series. Calla's witch friends and vampire body guards were all well developed and brought the necessary humor and urgency to the events that Calla simply glided through.
Despite my criticism, Of the Blood still earns a solid recommendation from me; it is good escapist fantasy, with a nice amount of borderline spiciness between Calla and Prince Trystan Vladu (which I'm hoping to see more of in the sequel). The plot moves swiftly, with nary a dull moment, and does a good job of setting the stage for what will hopefully be a follow-up tale of Fire Goddess-centric reckoning to be wreaked upon the evil forces of Calla's world.