Out of the Blue by Kathryn Nolan
5
Out of the Blue
Contemporary Romance
That's What She Said Publishing, Incorporated
May 13,2021
396
There was no way I could protect her and my heart at the same time.
Cope McDaniels is known for two things: His cocky charm and his sterling reputation for keeping high-profile clients safe. Until a security job goes bad, and he suddenly finds his career on thin ice. Cope's newest assignment comes with serious consequences - he'll keep his job as long as he makes no mistakes.
Cope isn't worried…until his new client turns out to be a beautiful blast from his past.
Big wave surfer Serena Swift loves the adrenaline of her sport. And the elite athlete hates being told what to do. That goes double when the orders are coming from the sexy bodyguard-in-a-suit who broke her heart.
But she doesn't have a choice when a mysterious threat materializes and Serena's sponsor saddles her with the last man she'd want guarding her body. She'd rather focus on her next surf competition, not on some shadowy danger or the arrogant ex who dared to get even hotter since their breakup.
Cope can't stop butting heads with his new client. Just like old times, Serena refuses to play it safe, even when it's clear she's in peril. Now the intimacy of spending every second of the day by her side is wearing away at his self-control. He can't afford to lose focus, but everything about the woman is a constant distraction.
Including the fact that their divorce was never finalized…
Author's Note: One-click this scorching-hot bodyguard romance if you're a fan of second-chance angst, sizzling sexual tension, thrilling action and mysterious danger set on the warm, sunny beaches of San Diego.
Out of the Blue by Kathryn Nolan
Holy Heck, ya'll this book took me for a ride! A ride I thoroughly enjoyed, I gripped my seat, screamed, swooned, all of the appropriate reactions.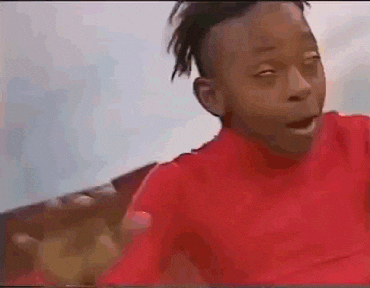 Out of the Blue is about a formally married couple Serena and Cope, in which they have been separated for the past four years. Serena is a professional, bad ass, surfer determined to win the upcoming surfing competitions she is lined up for. Cope is in the personal security field, he has lost his passion with a recent client, makes a rookie mistake, and gets placed on a new job to prove he is still in the headspace to be in the business.
Serena just got signed with a big brand, surfing slash bathing suit, slash beach wear company, Aerial. We are talking big bucks type sponsoring for Serena. You go girl, get that money! Because the brand is so huge they attach security detail to their clients, ya'll can guess where I am heading with this, yes?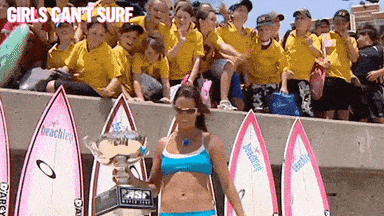 Serena needs a bodyguard because she will be drawing more intense attention, Cope is getting reassigned to a new client… These two haven't seen each other in FOUR years. Then, BOOM! Cope and Serena meet. They quickly decide that they can handle the new professional relationship and will not tell anyone about their past, which includes them still being legally married, yikes. (But also I am living for this drama!)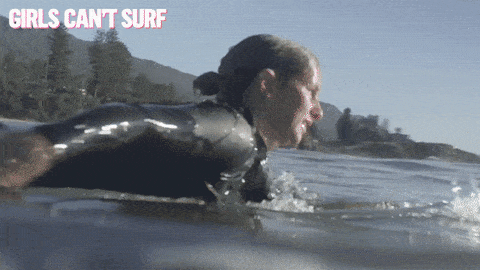 With these two constantly near each other, and their blazing chemistry topped with memories of a beautiful life they had started to build together, tensions rise higher than any wave Serena conquers.
Not only that, there is a slight thriller/suspense element to this wonderful story. Aerial, the company that sponsors Serena seems to be exclusively humanitarian, super sustainable, and almost too perfect on paper to work for (or be sponsored by.) Good thing she's got Cope by her side and his yummy biceps to help keep her safe, huh?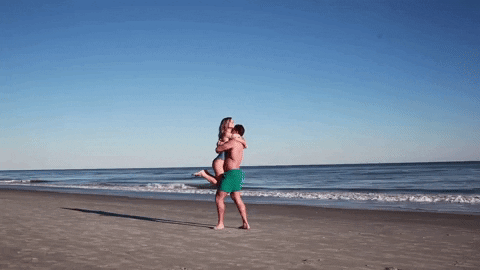 Out of the Blue is a perfect blend of sexy, sultry, brain twisty suspense all wrapped up in a contemporary romance. Kathryn Nolan has always excelled in writing female leads that pack a punch, they can carry a story line and their burdens with finesse. Out of the Blue is no exception to this. Serena is a bad ass athlete with a voice and intent that brings awareness to inequalities, its no surprise I fell hard for this female lead. Pair that up with a partner like Cope, with equal stubborn will and a sense that these two are equals when they metaphorically "square up," well my dear, that makes for explosive collisions with these two. I could not get enough of them!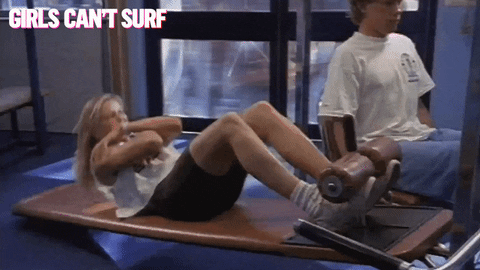 Please pick up Out of the Blue by Kathryn Nolan, its out now, click here to purchase!
Carla is a born-again bookworm originally from Puerto Rico. Becoming a mom is what drove her back into the love of reading. Starting with the love of Romance books but now she enjoys any epic tales that are well written. She's a mom of three, a wife, and resides in Central Florida. Hurricane news doesn't scare her but finding out a second book in a series doesn't come out for another year will send her into a real panic. Sending her chocolate and another great book works best to support her through such times.