Emotional Throwback
3.8
The Rewind
Contemporary Romance
Berkley
November 1, 2022
Paperback, Kindle
368
Two exes wake up together with wedding bands on their fingers—and no idea how they got there. They have just one New Year's Eve at the end of 1999 to figure it out in this big-hearted and nostalgic rom-com from New York Times bestselling author Allison Winn Scotch. When college sweethearts Frankie and Ezra broke up before graduation, they vowed to never speak to each other again. Ten years later, on the eve of the new millennium, they find themselves back on their snowy, picturesque New England campus together for the first time for the wedding of mutual friends. Frankie's on the rise as a music manager for the hottest bands of the late '90s, and Ezra's ready to propose to his girlfriend after the wedding. Everything is going to plan—they just have to avoid the chasm of emotions brought up when they inevitably come face to face. But when they wake up in bed next to each other the following morning with Ezra's grandmother's diamond on Frankie's finger, they have zero memory of how they got there—or about any of the events that transpired the night before. Now Frankie and Ezra have to put aside old grievances in order to figure out what happened, what didn't happen...and to ask themselves the most troubling question of all: what if they both got it wrong the first time around?
The Rewind: a great rainy day read
I paired The Rewind by Allison Winn Scotch with cozy sofa time during bad weather, and it was the perfect reading experience for this emotional story.
Second-chance romance meets 90s nostalgia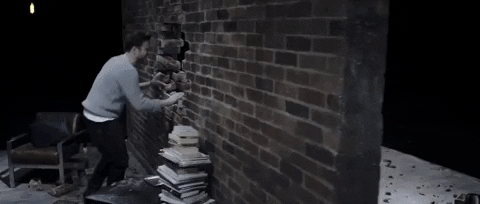 Frankie and Ezra's whirlwind relationship ended right after graduation. They weren't perfect together, but walking away didn't help them move on. A decade later, their feelings for each other are still messy and raw. Although they would rather continue avoiding each other, a wedding brings them back together to the scene of their heartbreak.
In The Rewind, Frankie and Ezra wake up after sleeping together in a room at their old college dorm. They have absolutely no recollection of how they got there or why they are both wearing wedding bands. As they try to piece together their night, they are forced to confront how they each contributed to blowing up the relationship and the realization that there are still all sorts of feelings that run deep.
The Rewind is not a rom-com
Sure, there are funny moments of banter and chuckle-worthy scenes, but I found it hard to see the romance or the comedy in it. Instead, the story stands out to me as an examination of a relationship between two people who shared a remarkable connection fueled with love and still decided to let go of each other. Ten years later, they are forced to confront the reasons they walked away and determine if they have a future.
The book is written in third-person POV, with chapters alternating focus between Ezra and Frankie. It spends a lot of time looking back and explaining the heavy baggage they both carry. Maybe that is why it is so hard to think of this as a rom-com.
The Rewind is a beautiful and emotional story about humans who are imperfect but real.
Darienne was 15 when her aunt gave her a copy of Princess by Jean Sasson, and she has been hooked on books ever since. Originally from Puerto Rico and now living in Maryland, she's always looking to visit new coffee shops and bookstores. Her favorite genres include YA, spicy romcoms, and women's fiction. Thanks to the Bees, she's also now obsessed with romantasy series. Other loves include lavender lattes, sassy coffee mugs, sunrises, sleeping in, small-town charm, and big city lights. One day, she'll write that book that lives in her head.