Winged Victory
4
Wings of Vengeance
Hidden Wings
Paranormal Romance
CHBB Publishing
Jan. 22, 2016
195
No one knows of Lucian's long-held secret—a recently transformed Nephilim daughter. Unfortunately for the Gray house, Lilith believes Emma is the one responsible for killing her father, and her deep-rooted hatred has turned into an envious obsession.
Powerful, with wings as dark as night, revenge consumes Lilith's every thought, only to be fueled by Lucifer's lies. Her newly transformed gifts have raised the danger level. Her aim is to strip Emma from everyone she loves, and has Lucifer's Fallen warriors to aid in her task.
Receiving help from Midway, Emma reconnects with friends of old and new, and hopes it will be enough to keep them all alive.
Vengeance is Bloody, Beautiful and Hollow in the End
Cameo Renae delivers a surprise addition to her bestselling Hidden Wings series with a golden-haired fiend on rampage
Bitch on wheels.
From now on, when I think of this cliche, I will think of a blonde nephilim "hell bent" on
destruction over the loss of her father, even if her anger is misguided.
I'm getting ahead of myself.  Let's take it back for a second so you know where we are in the story.
Cameo Renae's Hidden Wings series took us on a voyage of self-discovery with Emma after she tragically loses her parents in a car crash.  She grows into a strong force, and finds family and a love of her own.  In the end of the last book, she seemed to be tied up neatly with a bow.
But then, out of left field, Cameo delivered announced that she was working on a new book for the series with a new and unexpected character, and her fans rejoiced in true Worshipper style (you'd understand if you'd read them).  Suddenly, the thought of a married Kade and Emma took the internet by storm and fans couldn't wait to see these adorable lovers as they moved into this next challenge together.
So what happens?
Well, we meet Lilith, Lucian's secret child. She was raised with just Ethon as a companion, and with both gone for good, and Lucifer in exile, she's convinced Emma is to blame and must pay the price. She is coming for our girl, and she's taking out everyone in Gray House if she can.
With impending danger, our crew of quirky best friends, wayward relatives and adorable Guardians return, minus some notable exceptions whose loss can be felt in this book.  What we do have is some more DOMINIC, and let me tell you, if I ever wanted a spinoff book (maybe something NEW ADULT, Cameo *hint hint*) gimme Dom.  I have always loved this character.  His delicious combination of sexy arrogance and mushy teddy bear with a side of vulnerability makes him ideal for his own search for happiness.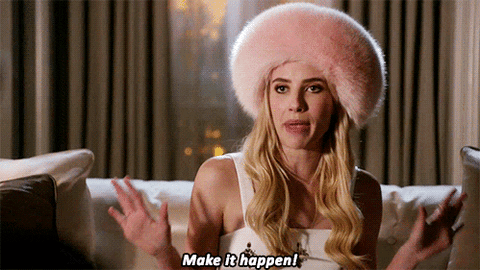 Make it happen, woman.
Anyway, I digress.  We're again fighting the crazies from the Dark Side, but this new foe is one twisted chick and her actions will have you questioning saying wtf… I know I couldn't figure her out.
In the end, I would say you could assume it would all work out, but Cameo doesn't always give us what we'd expect.  She'll go all George R.R. Martin and busting caps, so to speak.
I have to say that it was hard for me to read this book because there was a distinct hollow with Ethon.  I mean, usually when a girl "chooses" in these books, the other guy is still around and finds his own HEA.  Without Ethon, it hurt my heart… especially when they went to his tree.  Ugh.
But ya, life goes on, and that's what this book is about, really… the next chapter.
My overall take on this book is that it wasn't my favorite in the series, but it was a great surprise, and it was comforting to visit the old crew.  I also loved some of the twists that Cameo built into the
story, most especially the gift Lilith possesses, and her admission during the final battle of how she used it.  WOAH.
Clearly you need to read this series from the beginning.  Though it has implied sexual situation and some minor profanity, it is solidly in the YA category (though maybe not as religious or spiritual as its categorizing on Amazon would lead you to believe).
If you're a mom of teen girls like me, this is one of those books you can be ok reading along with your kids.  On a side note, I cannot stress how beautiful of this book's cover art.  I said it when we did the cover reveal, and I have to repeat myself now.  Beeeeautiful!
Meg, AKA the Queen Bee (QB) founded LitBuzz in 2015 as a way for her favorite authors to more-readily provide books to a legitimized reviewer. At the time, she never thought it would grow to include a dozen people, hundreds of authors and thousands of reviews.
Most of the time, you can find her with a bulldog at her feet in her home office in Pittsburgh, writing content or developing brand campaigns for clients – or sneaking a quick read of a new release.
She's married to a great guy, has two amazing grown daughters and more animals than sense. 😉