Long Live Rom-Coms
4
The Rom Con
Romantic Comedy
Berkley
November 7, 2023
Paperback, Audiobook
384
A modern battle of the sexes about a journalist who hatches an elaborate plan to take down her professional rival, in a rom-com perfect for fans of How to Lose a Guy in 10 Days.
After a particularly brutal breakup, Cassidy Sutton has had it with dating. So when her grandmother gives her a 1950's dating guide entitled 125 Tips to Hook a Husband, she decides to turn the retro advice into an ironic "What not to do" article for Siren, the popular online women's publication she writes for. And who better to secretly test the old-fashioned tips on than Jack Bradford, chauvinistic creator of rival men's site Brawler? She'll write an article that will entertain female readers everywhere and embarrass their sexist nemesis at the same time. Two birds, one stone.
But her perfect plan soon proves to be anything but. Those vintage courtship tips Cassidy was so quick to poke fun at? They actually seem to work, calling her most closely-held beliefs into question. Even worse? Jack isn't falling for any of her tricks—and it's not long before their 'fake' relationship starts to feel like the realest one of her life. As her cat and mouse game starts to spiral out of control, Cassidy has to decide if she's playing to win, or if she's willing to lose it all for love.
"As a writer, there's a really delicious tension between 'feminine' and 'feminist' that I had so much fun exploring."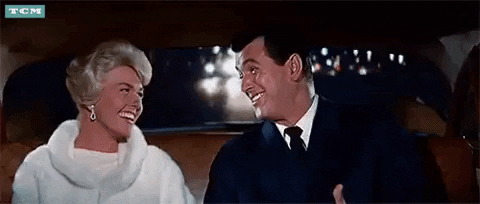 The Rom Con by Devon Daniels checked all the boxes for how to capture my heart.
✓ Classic Rom-Com Feels
✓ Throwback and modern references that feel close to my heart (Doris Day, Friends, Dirty Dancing, Aqua Di Gio, Betty White, Peloton & Orange Theory, to name a few… ok, maybe those last two aren't close to the heart)
✓ Rich, broody, sweet & handsome bachelor
✓ Strong, independent & relatable female lead
✓ Smart & funny writing
There was also a fun & interesting layer to this story because I could relate to the struggle that's the core premise of the plot. As a 90s kid raised in a traditional and Catholic environment, my grandma's words of advice often conflicted with the woman I was becoming. I have wondered if my complete rejection of those old courtship values is, in part, what has landed me single in my 40s.
Can 1950s dating advice help a modern woman get the guy?
In The Rom Con, Cassidy dumps her latest man after he declares he can't go to her grandmother's 90s birthday party because Saturdays are for football with the boys. Her grandmother then suggests that maybe a 1950s article with tips on how to land the man might be helpful to her love life. (e.g., "Read the obituaries to find eligible widowers.") Cassidy, a writer for a women's magazine, doesn't believe there are any merits to these, but she does see potential for a great article.
In a twist to How to Lose a Guy in 10 Days, Cassidy instead sets out to land a man using 70-year-old advice. In true Rom-Com fashion, "unexpectedly," the lab rat of Cassidy's experiment, Jack, turns out to be the perfect man. Cassidy quickly realizes she might want to hold on to Jack and gives herself fully to the relationship. Of course, Jack learns about her original intentions and decides to walk away dramatically. Cue to 6+ weeks of post-break-up depression, and we get *SPOILER ALERT* a happy ever after—this is a Rom-Com, after all. I don't want to spoil anything else. This book is about the journey, not the destination. (Although I quite loved both.)
Devon Daniels writes the men of my dreams
I just fall for them. Jack Bradford or Ben Mackenzie, I politely but eagerly request the dating gods to please send me one of these. If you are a fan of "a guy with serious alpha male energy but none of the ego that typically comes with it," The Rom Con by Devon Daniels needs to be on your TBR.
Darienne was 15 when her aunt gave her a copy of Princess by Jean Sasson, and she has been hooked on books ever since. Originally from Puerto Rico and now living in Maryland, she's always looking to visit new coffee shops and bookstores. Her favorite genres include YA, spicy romcoms, and women's fiction. Thanks to the Bees, she's also now obsessed with romantasy series. Other loves include lavender lattes, sassy coffee mugs, sunrises, sleeping in, small-town charm, and big city lights. One day, she'll write that book that lives in her head.