Bingo!!
4
Bet On It
Romance
St. Martin's Griffin
July 12, 2022
Paperback, Audio, Ebook
320
The first time Aja Owens encounters the man of her dreams, she's having a panic attack in the frozen foods section of the Piggly Wiggly. The second time, he's being introduced to her as her favorite bingo buddy's semi-estranged grandson. From there, all it takes is one game for her to realize that he's definitely going to be a problem. And if there's anything she already has a surplus of, it's problems.
In Walker Abbott's mind, there are only two worthwhile things in Greenbelt, South Carolina. The peach cobbler at his old favorite diner and his ailing grandmother. Dragging himself back after more than a decade away, he's counting down the days until Gram heals and he can get back to his real life. Far away from the trauma inside of those city limits. Just when he thinks his plan is solid, enter Aja to shake everything up.
A hastily made bingo-based sex pact is supposed to keep this…thing between them from getting out of hand. Especially when submitting to their feelings means disrupting their carefully balanced lives. But emotions are just like bingo callers―they refuse to be ignored.
Jodie Slaughter's Bet on It is a heart-stoppingly fun, emotional romance that will have readers falling in love until long after the last page is turned.
Let's talk meet-cutes, shall we? Romances can live or die by the meet-cute, the way two main characters meet. Some can be as small as bumping into one another while getting a cup of coffee and reaching for the same drink, or as grandiose as meeting a celebrity crush and finding out they think you're pretty okay, too. Regardless of the situation, the first meeting is always important and will set the tone for the rest of the book.
"All things considered, the frozen dinner section of the Piggly Wiggly was one of the better public places to have a panic attack."
"Bet On It" by Jodie Slaughter's opening line is the perfect way to draw me in after living through a pandemic. Our main character Aja is mid panic attack smack dab in the freezer section of the grocery store. For those who manage mental health issues, you know there's no way to know when something might tip the scales. Sometimes there's no rhyme or reason to why it happens the way it does. In Aja's case, it was dropping a box of Hot Pockets. ::shrugs::
Luckily for Aja, another customer at the store notices her and offers her the quiet support she needs to pull her through her panic attack, at least enough to be able to grab the rest of her groceries and leave the store.
Aja manages her stress by putting herself in situations that ground her. What is her activity of choice?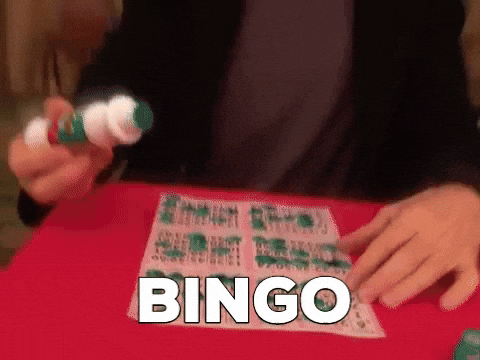 Bingo is legit. The intensity of those moments while you're one or two numbers away is like nothing I've ever felt before. You're sitting at the edge of your seat, holding your breath, positively shaking with anticipation that they're going to call YOUR number and you'll get to jump out of your seat and scream those five beautiful letters: B-I-N-G-O!!!
What a rush… but I digress. Back to the book!
Slaughter layers mental health issues into her story so easily. It's part of the plot, but… it's also not? Aja and Walker normalize their mental health management practices through their every day routines, and it's refreshing to know that mental health awareness is making it's way mainstream. The more we tall about it, the less stigma it'll carry.
"But what do I do?"

"You do whatever you think you need to in order to feel everything fully and come out on the other side."

"And if that involved a couple gallons of ice cream and a lot of Adele?"

"Then that's perfectly OK."
One other thing that I really loved about "Bet On It" was the fact that Aja and Walker are interracial, and while it's mentioned once or twice for context, it's not a "plot point" or something to work through. It just is. I like to think that I read about diverse characters because I tend to read a lot of LGBTQ+ romance, but it was eye-opening to me to realize how little interracial couples I read about. I will definitely bee working toward expanding my definition of diversity in the future.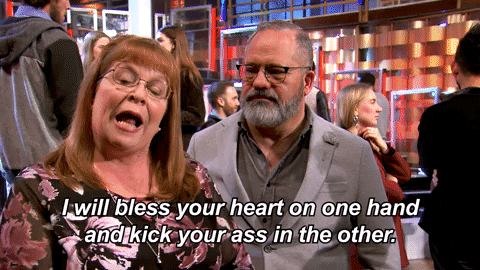 Final Thoughts
Would I recommend this book? Heck yes. I devoured this in 24 hours, and started looking for the next Jodie Slaughter book I could pick up.
Bingo + Mental Health Rep + Southern Charm = "Bet On It" bliss.
In the Hive we share book recs *non-stop*. Even better is when we're reading the same books at the same time. Book friends are the best friends. Carla and I both read "Bet On It" as a buddy read. She'll be posting her reaction to "Bet On It" on Tiktok so make sure you're following @carla_is_reading and @thelitbuzz to catch all the buzz. If you like the buddy read angle, check out this post from me and Kristin for "Dream On" by Angie Hockman – a nice take on a conversational review.
I'm Val, and I'm excited to share my love of books with you! I'm a sassy Sour Patch kid from New Jersey, dog mom to Chance the beagle, and much like the rest of the Hive, I'm a coffee lover (I think it's a requirement to be here). The first book I remember reading voluntarily involved a boy wizard who lived in the cupboard under the stairs, and I've been chasing magic ever since. I love Happily Ever Afters, and I love love. My favorite genres are romance and rom-coms, fantasy, and young adult/new adult. If I'm not reading, I'm probably kayaking, watching the Great British Baking Show, or discovering a new craft beer.