5
She Gets the Girl
Queer YA Rom-Com
Simon and Schuster Books for Young Readers
04/05/22
Paperback
384
She's All That meets What If It's Us in this swoon-worthy hate-to-love YA romantic comedy from #1 New York Times bestselling coauthor of Five Feet Apart Rachael Lippincott and debut writer Alyson Derrick.
Alex Blackwood is a little bit headstrong, with a dash of chaos and a whole lot of flirt. She knows how to get the girl. Keeping her on the other hand…not so much. Molly Parker has everything in her life totally in control, except for her complete awkwardness with just about anyone besides her mom. She knows she's in love with the impossibly cool Cora Myers. She just…hasn't actually talked to her yet.
Alex and Molly don't belong on the same planet, let alone the same college campus. But when Alex, fresh off a bad (but hopefully not permanent) breakup, discovers Molly's hidden crush as their paths cross the night before classes start, they realize they might have a common interest after all. Because maybe if Alex volunteers to help Molly learn how to get her dream girl to fall for her, she can prove to her ex that she's not a selfish flirt. That she's ready for an actual commitment. And while Alex is the last person Molly would ever think she could trust, she can't deny Alex knows what she's doing with girls, unlike her.
As the two embark on their five-step plans to get their girls to fall for them, though, they both begin to wonder if maybe they're the ones falling…for each other.
To set the scene…
I want to set the scene for you on how I heard about She Gets The Girl: I was laying in my bed, scrolling through my
FYP on TikTok (as any good Gen Z-er would) when a video with the caption "the feminine urge to write a sapphic college-aged romcom with your wife, set at the school & in the city you fell in love in" with pics of Pittsburgh and an adorable lesbian couple popped up on my page. This immediately peaked my interest, as a Sapphic person who met their girlfriend in college in Pittsburgh. It was like the FYP Gods were smiling on me. That was back in November, and She Gets The Girl has been on my mind ever sense. The book is a collaborative effort between real life wives Rachael Lippincott and Alyson Derrick, which is also stuck majorly with me. Let me tell you folks: Lippincott and Derrick did NOT disappoint.
Told in dual POV, alternating chapters, the book follows moody and stormy Alex Blackwood making the big move from Philly to Pittsburgh and sweet, poorly-dressed Molly Parker making the, well, less big move from her small suburb in Southern, PA, to the city. Alex arrives fresh off of a breakup, while Molly is looking to find love with Cora, the girl she has been practically in love with since high school…who doesn't even know she exists. When Alex realizes she can help Molly get the girl, she jumps at the chance, hoping it'll prove she is more than just a friendless flirt to her ex. Despite the girls dislike and distrust for one another, they develop a relationship far deeper than what either intended.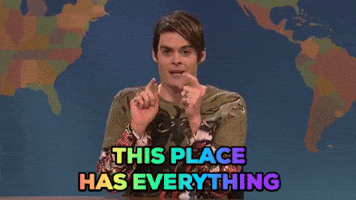 This book has EVERYTHING: lesbians (woot,) palachinkas, grumpy food truck owners, surprise boners, enemies to lovers, and a swoon worthy roller-skating (not) date.
Something special…
Something worth noting that this book DOESN'T have: a traumatic coming out story. A common thing in queer stories is the need for characters to have to come out in some big, dramatic way, with generally some gut wrenching fall out. She Gets The Girl avoids that. The book is a celebration of queer joy and queer love!
I loved the back and forth POVs that really highlighted Alex and Molly's distinct differences. Lippincott and Derrick do a wonderful job of fleshing out their heroines, warts and all.
Possible trigger warnings to be aware of: Alcohol abuse, car accidents, and racism.
Overall, She Gets The Girl, is a queer love story for the ages. However, it is more than just a romance between two women. It is also about the power of friendship and what an important foundation to romance that can be. I would recommend She Gets The Girl for more than just Sapphic or Queer individuals, but lovers of love overall.
Lorynn Watt is a junior English major at DeSales University. She's the daughter of Meg, the Queen Bee, though if you call her Princess Bee she will definitely cut you. When Lorynn isn't reading, she can be found writing, listening to a weird mish-mash of music, cuddling her dogs and guinea pigs, and ingesting too much caffeine.