5
One Italian Summer: A Novel
Women's Fiction
Atria Books
March 1, 2022
Hardcover, Audiobook, Kindle
272
The New York Times bestselling author of the "heartwarming, heartbreaking, and hard to put down" (Laurie Frankel, New York Times bestselling author) modern classic In Five Years returns with a moving and unforgettable exploration of the powerful bond between mother and daughter set on the breathtaking Amalfi Coast.
When Katy's mother dies, she is left reeling. Carol wasn't just Katy's mom, but her best friend and first phone call. She had all the answers and now, when Katy needs her the most, she is gone. To make matters worse, their planned mother-daughter trip of a lifetime looms: to Positano, the magical town where Carol spent the summer right before she met Katy's father. Katy has been waiting years for Carol to take her, and now she is faced with embarking on the adventure alone.
But as soon as she steps foot on the Amalfi Coast, Katy begins to feel her mother's spirit. Buoyed by the stunning waters, beautiful cliffsides, delightful residents, and, of course, delectable food, Katy feels herself coming back to life.
And then Carol appears—in the flesh, healthy, sun-tanned, and thirty years old. Katy doesn't understand what is happening, or how—all she can focus on is that she has somehow, impossibly, gotten her mother back. Over the course of one Italian summer, Katy gets to know Carol, not as her mother, but as the young woman before her. She is not exactly who Katy imagined she might be, however, and soon Katy must reconcile the mother who knew everything with the young woman who does not yet have a clue.
Rebecca Serle's next great love story is here, and this time it's between a mother and a daughter. With her signature "heartbreaking, redemptive, and authentic" (Jamie Ford, New York Times bestselling author) prose, Serle has crafted a transcendent novel about how we move on after loss, and how the people we love never truly leave us.
With One Italian Summer, Rebecca Serle delivers another shinning love story!
A few years ago, I spent four unforgettable days in Sardinia, Italy with one of my oldest friends. She and I spent our days exploring the beaches, food, plazas, and views. Even though I grew up on a different island across the ocean that is also packed with breathtaking beaches and sights, there's something about the Mediterranean coast that makes me feel like I've stepped inside a painting or a different time. It's exotic and magical.
When I read One Italian Summer, Rebecca Serle's latest novel, set in Positano on Italy's Amalfi Coast, I felt all that again. And, it's not just because this book takes place in an Italian beach town; through Serle's words, I felt the same amazement I've experienced when visiting the Mediterranean. During these times of limited foreign travel, this was a beautiful gift. But, this story gifted me so much more than wanderlust.
"Colorful hotels and houses sit chiseled into the rocks as if they were painted there. The entire town is built around the cove of the sea. It looks like an amphitheater, enjoying the performance of the ocean."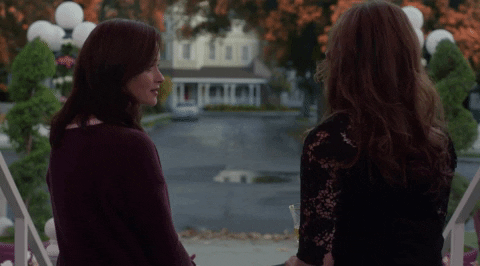 One Italian Summer opens as Katy, our main character, is reeling from the loss of her mother. And her pain is so intense that she's questioning some of her most important life choices, including her marriage. To reconnect with her mother and hoping to find some direction, she decides to proceed with the trip they were meant to take together to Positano, the town where Katy's mom, Carol, had spent a transformative summer. While there, she finds and befriends her dead mother. Or, actually, the 30-year-old version of her mom.
"I want to see what she saw, what she loved before she loved me. I want to see where it was she always wanted to return, this magical place that showed up so strongly in her memories."
When I read Serle's previous book, In Five Years, I thought I was picking up a cute rom-com, and I ended up reading a deep and meaningful story. This story felt familiar, but it was also completely different. In One Italian Summer, Serle committed to the magical realism that inspired her previous book. Through it, she delivered an inspiring and spiritual portrait of loss, grief, and healing.
"My mother, you see, is the great love of my life. She is the great love of my life, and I have lost her."
One Italian Summer is another uplifting and memorable celebration of love, but, once more, not the romantic kind. Rebecca Serle, this time, is tackling the oldest and most meaningful connection a woman has in her lifetime. Katy and Carol's story spotlights the unconditional yet complicated love that fuels a tight mother-daughter bond.
I love how Rebecca Serle's stories make me feel. Her memorable prose and imaginative storylines stay with me. One Italian Summer is a vivid, picturesque, and unforgettable story of life after loss. Katy and Carol's journey will pull your heartstrings and simultaneously fill your heart with joy.
Darienne was 15 when her aunt gave her a copy of Princess by Jean Sasson, and she has been hooked on books ever since. Originally from Puerto Rico and now living in Maryland, she's always looking to visit new coffee shops and bookstores. Her favorite genres include YA, spicy romcoms, and women's fiction. Thanks to the Bees, she's also now obsessed with romantasy series. Other loves include lavender lattes, sassy coffee mugs, sunrises, sleeping in, small-town charm, and big city lights. One day, she'll write that book that lives in her head.