Window Shopping by Tessa Bailey
4
Window Shopping
Christmas Romance
Tessa Bailey
October 19, 2021
258
A sizzling, standalone, feel-good holiday romance from Tessa Bailey, New York Times bestselling author of It Happened One Summer. Two weeks before Christmas and all through Manhattan, shop windows are decorated in red and green satin. I'm standing alone in front of the famous Vivant department store, when a charming man named Aiden asks my opinion of the décor. It's a tragedy in tinsel, I say, unable to lie. He asks for a better idea with a twinkle in his eye. Did I know he owned the place? No. He put me on the spot. Now I'm working for that man, trying to ignore that he's hot. But as a down on her luck girl with a difficult past, I know an opportunity when I see one-and I have to make it last. I'll put my heart and soul into dressing his holiday windows. I'll work without stopping. And when we lose the battle with temptation, I'll try and remember I'm just window shopping.
Window Shopping by Tessa Bailey
An adorable yet steamy read that gives you all the goodness and adult Christmas needs!
The book centers around Stella who has just been released from prison and caught in a interpersonal struggle of wanting to pick up the pieces of herself and turn change to be better than she used to be. She wants a fresh start to life after prison putting things into perspective. As she is walking down the streets of Manhattan she pauses to watch the horrid window display of Vivant. A staple to the NY department stores like of Macy's. The display is outdated and to be honest, a bit grotesque.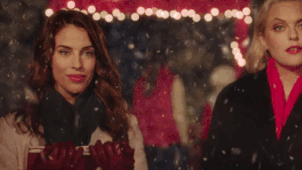 As Stella stares in horrid awe Aiden (the store co-owner and manager) pauses at the sight of her beauty and horrid expression. His sunshine demeanor meets her grump and realistic stance on life go toe to toe in this initial meet. The conversation strikes a bit of intrigue in Stella to possibly tap into that creative side of her (as in her past she had interest in marketing, more so in window styling.)
As she heads home to possibly ponder on whether or not to apply to do the window design position for Vivant, Aiden can't seem to get her out of his head. What they both are not ready for is the amazing tension-filled chemistry that grows thicker with each interaction they have.
I enjoyed Window Shopping on so many accounts. The biggest one, is the all the Christmas in Manhattan vibes it gives. As well as the internal growth for Stella. She starts off the book wanting to be better than she was in the past, a woman with a goal is the best way to get me invested. Add a sprinkle of charismatic Aiden, with all his charm and bow ties, we then get Window Shopping by Tessa Bailey.
I encourage all pick up Window Shopping by Tessa Bailey, click here to purchase. (Please note this is an affiliate link)
Carla is a born-again bookworm originally from Puerto Rico. Becoming a mom is what drove her back into the love of reading. Starting with the love of Romance books but now she enjoys any epic tales that are well written. She's a mom of three, a wife, and resides in Central Florida. Hurricane news doesn't scare her but finding out a second book in a series doesn't come out for another year will send her into a real panic. Sending her chocolate and another great book works best to support her through such times.