A Traditional Christmas Romance
4
If Every Day Was Christmas
Holiday Romance
Bookouture
October 9, 2020
Kindle E-book
236
Snow is falling, fires are crackling merrily, and Lockton tradition has everyone hanging a promise they're determined to keep this Christmas on the tree in the village square…
Meg Scott has promised to make a success of her first solo Christmas. She runs a year-round Christmas shop in the little Scottish village, and is a fan of all things mulled, sparkly and festive. So when her warring family shows up on her doorstep, ready to spread discord and tension, Meg is determined not to let them ruin her favourite time of the year.
Meanwhile, Christmas-hating Tom Riley-Clark has been called to the Highlands to help his old friend at The Apple Cross Inn. He's ready to work hard and has no time for mince pies, tinsel or hanging a promise on the tree: the thought of every day being Christmas is his worst nightmare, and you wouldn't catch him dead buying a bauble. So everyone is surprised when Christmas-loving Meg and grinch Tom start to get cozy under the mistletoe.
But Tom has a big secret about his past, and in a small town like Lockton it's hard to keep anything hidden for long. Will everything fall apart when Meg discovers who he really is? The pair are about to learn the hard way that some promises are impossible to keep…
A Romantic Tale of Mince Pies, Reindeer, and Holiday Cheer
If Every Day Was Christmas is the Hallmark Christmas story of the book world. In fact, Donna Ashcroft should probably see if Hallmark would like to adapt it to film for their fans' viewing pleasure this holiday season! The plot follows the familiar arc: two strangers cross paths in a small town, one with a deep, dark secret, and one with a fractured family past, they try to resist feelings of passion because they aren't interested in love, but end up kissing with abandon in the snow in front of the assembled townspeople. Cue happy tears and the pleasant feeling of warm contentment as one sits drinking their hot cocoa and wishing for a perfect holiday romance of their own.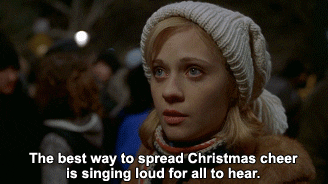 The female protagonist, Meg Scott, loves Christmas because it was the one day a year her parents set aside their shared animosity and focused on giving their daughters the ideal family experience. She wears glitter for makeup, and enjoys mince pies and Christmas carols year-round in her Christmas shop…which she runs while dressed as an elf. The male protagonist, Tom Riley-Clark, on the other hand, was badly burned on Christmas day a few years prior and has come to hate the season and what it represents: the end of life as he knew it. He is dark and brooding, anti-glitter and cheer, and hates mince pies. Yet, he and Meg can't help but think they might be falling in love…their hormones and bodies certainly seem convinced of it anyway! Their love blooms slowly across the arc of the story as they grapple with what Christmas actually does represent, and what it doesn't. Thrown into the mix are two auxiliary romances, and a coming-of-age revelation for Meg's sister, Emily, who makes friends with a baby reindeer. All in all, this book screams Christmas cheer!
If Every Day Was Christmas is exactly what it presents itself as, nothing more and nothing less. It isn't particularly original or thought provoking, but it is a fun way to kick off the holiday book season, and to get ready for the aforementioned Christmas specials on the Hallmark Channel. The characters are quirky and relatable, the dialogue and plot flow smoothly, and the conclusion is just as sentimental and sweet as one would hope. If chick lit and light romances are your thing, I promise you won't be disappointed…and even if you are a bit of a Grinch (like me), it will still make you smile and chuckle.
Meghan is a coffee connoisseur, devoted milspouse, and exhausted momma to a three year old daughter and three dogs. She enjoys hiking, glamping, and traveling. You are mostly likely to find her reading good books in a hammock with a view of the ocean or mountains.