Oh, Baby! This book is cute!
5
One Moment Please
contemporary romance
Stars Hollow Publishing
April 2, 2020
print, audio, ebook
305
That awkward moment when an ER doctor has to inform you that you're pregnant…with his baby. Three things Lynsey Jones knows about the hot doctor: he's grouchy, an arrogant jerk, and strangely obsessed with pie. Three things Dr. Josh Richardson knows: he doesn't talk about his past, he doesn't do relationships, and the crazy girl in the hospital cafeteria who ate a fistful of French silk pie…is annoyingly irresistible. After a chance meetup at a bar and a heated cab ride together, things come to a head and now instead of hating each other, they're horizontal in a bed. Three months later, the weird cafeteria stalker who crept out of Josh's house like a thief in the night, winds up as his patient in the ER after her Tinder date from hell. The doctor is prepared to keep it cool and professional. That is until her bloodwork reveals that she's pregnant. What really throws him for a loop…is that the surprise baby…is his.
What do you get when you match a headstrong child psychologist with a cranky ER doctor?
Well, if you're reading One Moment Please by Amy Daws, you're likely getting a really fun read…and an unexpected pregnancy.
I will admit that the unplanned pregnancy schtick isn't my usual go-to, but Amy Daws is DEFINITELY a one-click author, so here we are, and aren't I glad! This book follows the best friend of Kate, from Wait with Me. Lynsey just finished school and she's unsure where her future is taking her. For the time being, it looks like it's taking her back to her ultra-Catholic parents' house.
So what's a girl to do? It involves way too much alcohol and a cantankerous doctor, Josh, she met during the worst meet-cute of all time. (It lacked the cute, but did include chocolate pie to the groin. Let that ruminate.) The two get hot and heavy with a book convention swag condom (don't try this at home!) and…you can guess where this is going.
Fast forward a few months and Josh is face-to-face with the one night stand who left his bed cold without a word. As you can imagine, a lot of drama ensues and we follow along as these two very different people find their way to one another.
There's a lot to love in these 305 pages. The host of fun characters (with cameos of our old friends) with their playful banter reminds me of my friend groups and people in them. Daws got international attention for Wait with Me, a book she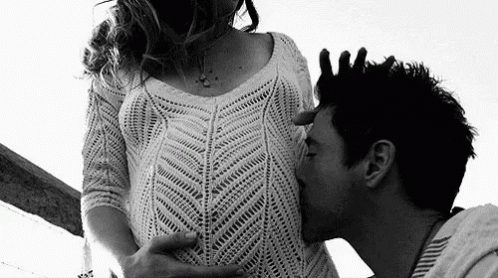 wrote because she insisted the waiting area of the tire shop helped her write – and that book is about an author writing in the tire shop! (If you haven't read it yet, here.)
Specifically, I love the growth of both main characters throughout this story. Josh has demons he needs to face down, and Lynsey surprised me with her strength and feistiness. In the beginning, I didn't expect her to be such a fiery protector of her peanut. She models love, she lives it. She makes some mistakes, but she keeps going. I like that. This book also delivers on just enough on the caliente and a whole lot on the feels. Meow.
So, if you're looking for a fun read that will suck you in and leave you smiling, I highly recommend One Moment Please to fill a pleasant night of your own moments.
Start reading here, and then grab a copy (or get it free with KU):
Meg, AKA the Queen Bee (QB) founded LitBuzz in 2015 as a way for her favorite authors to more-readily provide books to a legitimized reviewer. At the time, she never thought it would grow to include a dozen people, hundreds of authors and thousands of reviews.
Most of the time, you can find her with a bulldog at her feet in her home office in Pittsburgh, writing content or developing brand campaigns for clients – or sneaking a quick read of a new release.
She's married to a great guy, has two amazing grown daughters and more animals than sense. 😉