So I Heard You Paint Hosues
5
Summary
The book that the Netflix original film, The Irishman, is based on. The story of Frank "The Irishman" Sheeran, and the disappearance of Jimmy Hoffa. Which covers the assassination of JFK, the attempt to overthrow Castro in Cuba, Jack Ruby's connections to the mafia and Hoffa, and the election of Joe Biden.
All of this is in the True Crime book, So I Heard You Paint Houses. A Book any fan of mob films, true crime, or American History MUST READ!
So I Heard You Paint Houses
True Crime, Mafia, American History
SteerFourthPress
2005
Kindle & Paperback
309
https://www.amazon.com/Heard-You-Paint-Houses-Teamsters/dp/1586420895/ref=asc_df_1586420895/?tag=hyprod-20&linkCode=df0&hvadid=241995309321&hvpos=1o5&hvnetw=g&hvrand=2153126167643793313&hvpone=&hvptwo=&hvqmt=&hvdev=c&hvdvcmdl=&hvlocint=&hvlocphy=9007088&hvtargid=aud-799728744414:pla-586331230997&psc=1#reader_1586420895
So I Heard You Read Books?
I know how it can be painful sitting with family all day on Thanksgiving. So I decided to give my Throwback Thursday review of, I Heard You Paint Houses, as a holiday surprise. And perfect timing since many of you might have just literally finished watching the Netflix film, The Irishman. Or you're painfully sitting through two terrible NFL games either at Detroit (a city that gets a fair amount of coverage in this book), or Dallas (another city briefly covered).
So why did I pick this book to review? Easy, another time Martin Scorsese made a film with Robert De Niro and Joe Pesci it was, Goodfellas. Which was also based on a true crime nonfiction book (Wiseguy). And in that film, almost all of the narration (other than the introduction of the old time mobsters) was verbatim from the Nick Pileggi book. Although Scorsese did take many creative liberties for entertainment purposes. (Like "go get your shine box" and "How am I funny?").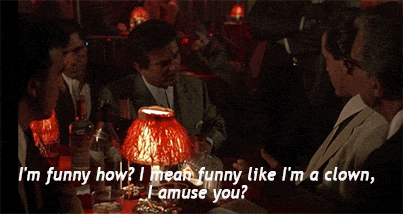 Still, Goodfellas stayed fairly true to the book. And I hope The Irishman does the same. (I have not watched the film yet as of this writing). Paint Houses certainly covers a great deal of American history and conspiracies. From the disappearance of Jimmy Hoffa (the main focus of the book), to the assassination of John F. Kennedy (YES! That is discussed in detail at one point). As well as the involvement of the Teamsters and mob associates in the election of former vice president, and current Presidential candidate, Joe Biden's election to the US Senate. YES! I did just say that!!!
Now I will avoid any spoilers. But I think we all obviously know that Jimmy Hoffa vanishes in the '70s. It was about every punchline during the '80s and '90s about the mafia. But I also don't think you will be able to run out and recover the remains of Hoffa. Although if you do, please be sure to credit this review.
The Irishman comes to print and Netflix
Frank "The Irishman" Sheeran (played by De Niro in the film) is the man who in his later years is telling his story to, Charles Brandt. And Brandt adds a great deal of historical facts and explanations to the events of the times. Which better helps putting this story into context. The silent mob boss who is a major player in this story (played by Pesci in the film) is, Russell Bufalino.
Bufalino, lived in a working class neighborhood in Northeastern Pennsylvania. The town of Kingston, not exactly a hotbed of organized crime—or any crime—is where the well off boss based his operations. He lived in a one story brick ranch, and didn't drive any flashy cars. Yet Bufalino had his hands in businesses up and down the east coast and even out as far as the mid-west. He was a millionaire who lived like a working class immigrant. He would take the Irishman and Hoffa out to eat at an Italian Restaurant in, Old Forge, PA. (But apparently they NEVER got the pizza there—JUST SAYING!!!)
And that might be one of the more interesting parts of this book. But unlike: Gotti, Capone, or Bugsy Siegel—little has been said or done on, Russell Bufalino. Who was more powerful than those named in the previous sentence. It's Frank's story. But I really became fascinated with, Bufalino. And I suspect you will too, especially if you call NEPA home or have family there.
I Heard You Paint Houses, and do carpentry…
The book is NOT politically correct. You might read some offensive words. Although it is not entirely graphic when talking about killing people. The title, is the code for killing people for a price. And that is really how the mob talks about it. They never say anyone was "whacked" or "hit". They "paint houses", or "took care of that thing". Which is all the more interesting to see how The Irishman so casually discusses killing people.
The author did do a great job giving the backstory on Sheeran's life. Which included a rather insane amount of combat action in the second world war. Sheeran saw more hot action than the majority of veterans did. Which largely desensitized him to the act of killing. So there is a bit of a psychological and sociological examination as well.
Overall this book was very well done. And it has only added to my excitement to watch the three and a half hour long film. (The paperback version I read is just over 300 pages.) So I am curious just how true to the book it will be.
I'm, Spike. A 40 year old curmudgeon. I love to (in no particular order): read, run, review books, and complain about the mundane things in life. I have an associate and bachelor degrees in criminal justice. I'm a recent convert to being a "gym rat" but refuse to call anyone "bro". In a past life—I was a track correspondent and weekly op-ed writer covering, IndyCar racing. 



I enjoy reading: [Fiction] historical, space sci-fi, espionage, time travel sci-fi (as if there is a non-fiction version?), criminal procedure, mystery, thrillers, anything Fredrik Backman writes (even Ikea shopping lists), and graphic novels. [Non-Fiction] American history, military history, espionage, true-crime, fitness, sports, Ikea shopping lists, space & astronomy, and biographies.