The Kingmaker by Kennedy Ryan (Book 1 All the King's Men Duet)
5
The Kingmaker (Book 1)
All the King's Men
Romance
Scribechick Media, LLC
October 28, 2019
Kindle
344
The Kingmaker
Ambition. Passion. Betrayal.
Rita Award-winning author Kennedy Ryan delivers the epic first installment of the All the King's Men Duet.
Raised to rule, bred to lead and weaned on a diet of ruthless ambition.
In a world of haves and have nots, my family has it all, and I want nothing to do with it.
My path takes me far from home and paints me as the black sheep. At odds with my father, I'm determined to build my own empire. I have rules, but Lennix Hunter is the exception to every one of them. From the moment we meet, something sparks between us. But my family stole from hers and my father is the man she hates most. I lied to have her, and will do anything to keep her. Though she tries to hate me, too, the inexorable pull between us will not be denied.
And neither will I.
The Kingmaker by Kennedy Ryan (Book I in All the King's Men Duet)
Holy Shitake Mushrooms she's done it again!
I just finished The Kingmaker by Kennedy Ryan and there are no meme's or enough GIFs in this world to explain what this book has done to me. But MIND BLOWN comes close! This is Book One in All the King's Men Duet (second book coming out November 18th 2019.)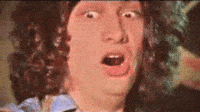 (That was my face during all the good parts.)
(This book is all good parts)
Okay, as I come down from this absolute freak out (the good kind), let me gush about this book really quickly.
Well to start off I need to give kudos to the queen of my reader heart, Kennedy Ryan. With each book that comes out, you can see her growth as a writer, you can feel her pushing the limits with her comfort zone, she kills it with this book.
This is a second chance-slash-enemies to lovers vibe-slash-super intellectual eye opening book. That was long, but the best summary I could finagle.
The main character's Lennix Hunter of the Yavapai-Apache Nation our heroine and our Hero, Maxime Cade. The beginning of the book starts with a chance encounter as Lennix is out with her indegenous, Native American comrads protesting a pipeline being built on sacred ground. The people putting in the pipeline are non other than Maxim Cade's father an oil tycoon. She's younger there and not much between them happens physically, but the reader gets a sense soulmates have just matched.
The story spans out over a decade's worth of time. The hero and heroine have alot of self growth with achievements and downfalls, along with a chance encounter or two. Until Maxim himself cannot deny his strong feelings for Lennix, he makes a decision to risk it all and try to win her over again. But will our head-strong, self made, bad ass political advisor heroine allow her heart to open up for him once more?
Lennix is the ultimate BAD B**CH that reminds me of Olivia Pope from Scandal. She's known as The Kingmaker because all political candidates she represents, win.

I gave The Kingmaker by Kennedy Ryan FIVE stars, this had everything I have been wanting in a romance book and more. You have a strong female lead that is proud and stands up for her heritage and culture. She isn't afraid to command what she wants in the office or bedroom. Then the main hero Maxim is an incredibly charasmatic, intelligent and determined business man with a heart of gold. This was a formula match made in Kennedy Ryan heaven.
I highly recommend The Kingmaker by Kennedy Ryan, you can buy it now on Amazon or wherever books are sold. Grab your copy now, you will not regret it!
Carla is a born-again bookworm originally from Puerto Rico. Becoming a mom is what drove her back into the love of reading. Starting with the love of Romance books but now she enjoys any epic tales that are well written. She's a mom of three, a wife, and resides in Central Florida. Hurricane news doesn't scare her but finding out a second book in a series doesn't come out for another year will send her into a real panic. Sending her chocolate and another great book works best to support her through such times.