Heir to Fire and Bone
5
Fire and Bone
Otherborn
Paranormal Fantasy
Skyscape
February 20, 2018
Kindle E-book
413
"Gossip Girl meets Percy Jackson in the glitz and grit of L.A...."
In Hollywood's underworld of demigods, druids, and ancient bonds, one girl has a dangerous future.
Sage is eighteen, down on her luck, and struggling to survive on the streets of Los Angeles. Everything changes the night she's invited to a party—one that turns out to be a trap.
Thrust into a magical world hidden within the City of Angels, Sage discovers that she's the daughter of a Celtic goddess, with powers that are only in their infancy. Now that she is of age, she's asked to pledge her service to one of the five deities, all keen on winning her favor by any means possible. She has to admit that she's tempted—especially when this new life comes with spells, Hollywood glam, and a bodyguard with secrets of his own. Not to mention a prince whose proposal could boost her rank in the Otherworld.
As loyalties shift, and as the two men vie for her attention, Sage tries to figure out who to trust in a realm she doesn't understand. One thing's for sure: the trap she's in has bigger claws than she thought. And it's going to take a lot more than magic for this Celtic demigoddess to make it out alive.
I have been waiting for a new book by Rachel A. Marks since the moment I finished the Dark Cycle trilogy. To say I was thrilled by the chance to read her latest offering, Fire and Bone, before its release, would be an understatement! I love the way Rachel adeptly paints pictures of both our familiar urban sprawl, and of the magical vistas on a paranormal plane. Her characters are always well drawn, full of depth, and easy to empathize with, staying in the mind long after the last words have been read and digested. And although my expectations were high, Fire and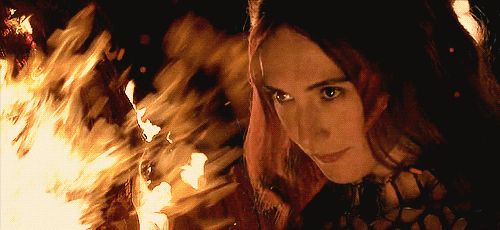 Bone was everything I hoped it would be! In it, a brand new urban fantasy landscape was created, peopled with characters who promise to deliver plenty of grit, frustration, and fulfillment.
The world of the Otherborn series is unique because it takes its inspiration from Celtic mythology, and the stories of the goddess Danu and her quarrelsome children. And while I have read plenty of stories spawned from Greek and Roman mythology, the world of the Celts is somewhat less well explored, and its one that I'm glad is now getting attention. The main character, Sage, is the daughter of the fire goddess Brighid, and her main love interest is a son of the fertility god Cernunnos…who has naturally taken a vow of celibacy. As if that doesn't complicate matters enough, Sage has also caught the eye (and possibly the affection) of the son of the goddess of death and war, the Morrigan. Sage's emergence as a new demigoddess kicks off a round of competition amongst the houses representing each god and goddess…but all Sage really wants is a sense of belonging and family, since she is the product of the L.A. foster care system. These tensions,
along with Sage's growing feeling that there is more to her nature than she ever thought possible, bring the book to an end with one heck of a cliffhanger, when Sage decides to go after the throne of an unexpected house in order to vanquish her enemies, bring balance back to the houses…and maybe find love.
Fire and Bone will release on February 20th, but pre-ordering is available now on Amazon. Fans of Rachel A. Marks, mythology, and paranormal/urban fiction should not miss out on reading this book!
Meghan is a coffee connoisseur, devoted milspouse, and exhausted momma to a three year old daughter and three dogs. She enjoys hiking, glamping, and traveling. You are mostly likely to find her reading good books in a hammock with a view of the ocean or mountains.