What a Tangled Web We Weave...
4.5
The Lying Game
Fiction
Random House
June 15, 2017
384
The text message arrives in the small hours of the night. It's just three words: I need you. Isa drops everything, takes her baby daughter and heads straight to Salten. She spent the most significant days of her life at boarding school on the marshes there, days which still cast their shadow over her. At school Isa and her three best friends used to play the Lying Game. They competed to convince people of the most outrageous stories. Now, after seventeen years of secrets, something terrible has been found on the beach. Something which will force Isa to confront her past, together with the three women she hasn't seen for years, but has never forgotten. Theirs is no cosy reunion: Salten isn't a safe place for them, not after what they did. It's time for the women to get their story straight...
I sat down to read Ruth Ware's newest offering, The Lying Game, as I was preparing my classroom for my new students. High school students are funny creatures: a mixture of drama, empathy, and great passion for life…tempered by anxiety, awkwardness, and startling naiveté. And so it really got me thinking: what would it be like to have an impulsive decision made in high school, shape and define the rest of one's life, particularly if it was one that must be kept secret? How would the web of necessary lies reach out to ensnare you many years after the fact, perhaps when you least expect it? These are the questions at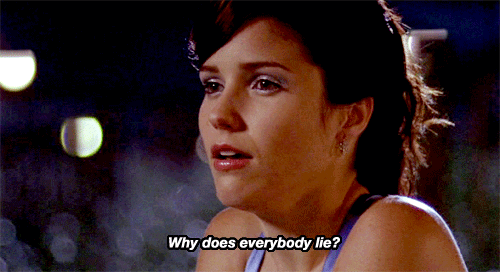 the heart of The Lying Game. But the secret shared by Isa, Kate, Fatima, and Thea is not your average high school fare involving an errant kiss, a night of awkward intimacy, or bullying…no, it is far more sinister than that. It involves the cover up of a parent's suicide…or so it seems.
The girls who play the lying game are students at a boarding school in England, whose bond is based on distance from their parents (with the exception of Kate whose father is the art teacher at the school), and the game they play that requires them to earn points by telling lies to everyone around them. Their reputation for telling tales makes them outcasts from the rest of school, only serving to strengthen their bond into an "us against the world" mentality. They spend an unforgettable summer together at the beach, drinking, smoking, and experimenting, until suddenly their world comes crashing down around them when they decide to cover up what they believe to be a suicide. The resulting fall out separates them, and the adult lives they choose to pursue further carries them apart, until it suddenly seems that their secret might not be so secret after all. Their diverse lives crash back together in a town most of them had long ago forsaken, revealing that perhaps they never knew the truth to begin with, and that everything might have been a terrible mistake. It soon becomes clear that one of them had violated the most important rule of the lying game: never lie to each other.
Ruth Ware is one of the few mystery/thriller authors whose work I consistently enjoy, and this new book was no disappointment. As always, she weaves a complex story, with multidimensional characters who share flawed and damaged relationships with everyone around them. In short, her characters and their dramas are relatable because they seem real…no perfect heroes here! Even the villains have believable motives for their actions, reflecting the grayness of the real world, rather than straying into being too black or too white. The Lying Game focuses a great deal on how parents shape (or fail to shape) their children, and on the unbreakable bonds that true friends can share. It is at turns optimistic, haunting, and heartbreaking. The male characters serve as excellent foils for the female leads, highlighting their glaring shortcomings and foreshadowing the nature of the lying game that has swallowed their lives whole. The only down fall with this story, is that for the first time with a Ruth Ware book, I was able to figure out the mystery before the truth was revealed! Regardless of that, I thoroughly enjoyed this book, reading most of it in a single sitting. It has Ruth Ware's signature cliffhanger chapters, false leads, and dynamic characters doing really screwy things that lead to disaster…I highly recommend picking up a copy!
Meghan is a coffee connoisseur, devoted milspouse, and exhausted momma to a three year old daughter and three dogs. She enjoys hiking, glamping, and traveling. You are mostly likely to find her reading good books in a hammock with a view of the ocean or mountains.