The Boyfriend Bet
4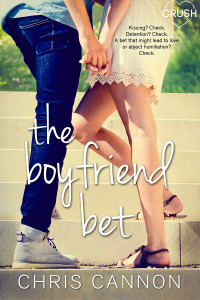 The Boyfriend Bet
A Boyfriend Chronicles #2
Young Adults
Entangled Publishing, LLC: Crush
August 22,2016
digital
240 pages
http://www.entangledpublishing.com/the-boyfriend-bet/
Zoe Cain knows that Grant Evertide is way out of her league. So naturally, she kisses him. Out of spite. Not only is Grant her brother's number-one nemesis, but he has zero interest in being tied down to one girl. She's shocked—and secretly thrilled—when they start spending more time together. Non-exclusively, of course, but that doesn't mean Zoe can't change his mind, one PDA and after-school detention at a time.
Zoe's brother claims Grant is trying to make her his "Ringer," an oh-so-charming tradition where a popular guy dates a non-popular girl until he hooks up with her, then dumps her. Zoe threatens to neuter Grant with hedge clippers if he's lying but Grant swears he isn't trying to trick her. Still, that doesn't mean Grant is the commitment type—even if winning a bet is on the line
This may contain some spoilers
Let me just start of by saying this
I fell in love with this book.
Have you ever read a book where certain parts of it remind you of part of your life? This story actually hits home to me. I can relate to the main character of the book in more ways then one. Once you start to read it, you will not want to put it down until you have finished it. The author did a great job at grabbing your attention  and keeping a hold on it.
The story is about a young girl who is not from the rich side of town. She loves to bicker back and forth with her brother. So when two boys approach her and start to bet on her name, so gets intrigued. When her brother approaches and she finds out that its his rival she just had to kiss him. Then school starts and her brother rival starts to show interest in her. She doesn't want to listen to her brother about him. Over the time so much juiciness end up happening. From fall formal, to car accident ,to her with an almost broken nose, to the Bet.
Through out the book I found my self laugh out loud.( glad the kids don't mind it) Every time I turned around there was funny and sassy remarks coming out of Zoe and her best friend Delia mouth. They constantly coming up with sneaky ways to go about things in this book. While the whole time you have the boys, Grant and his best friend, being typical guys and not know how to handle the girl situation. They even tried to double date.
So overall I would defiantly say this book is a good book to read by the pool, on vacation, or just any time read. It will bring you back to high school, and all that loveliness that goes with it.