The Charmed Life of Simon Snow
5
Carry On
Young Adult Fantasy
Pan Macmillan
February 25, 2016
528
Simon Snow just wants to relax and savour his last year at the Watford School of Magicks, but no one will let him. His girlfriend broke up with him, his best friend is a pest and his mentor keeps trying to hide him away in the mountains where maybe he'll be safe. Simon can't even enjoy the fact that his room-mate and longtime nemesis is missing, because he can't stop worrying about the evil git. Plus there are ghosts. And vampires. And actual evil things trying to shut Simon down. When you're the most powerful magician the world has ever known, you never get to relax and savour anything.Based on the characters Simon and Baz who featured in Rainbow Rowell's bestselling Fangirl, Carry On is a ghost story, a love story, a mystery and a melodrama. It has just as much kissing and talking as you'd expect from a Rainbow Rowell story - but far, far more monsters.
A Delightful Tale of Self-Discovery, Friendship, Love, and Sacrifice…with a Magical Twist!
If you couldn't already tell, I adored Carry On! The characters were richly developed, a thorough back story was provided, the action moved along quickly, and the ending was satisfying. This is a book that I would feel comfortable recommending to my students, to my friends, and even to my mom. The one point of caution I would provide for some readers, is that the romance revolves around two young men, one of whom has known for quite some time what his sexual orientation is, and the other to whom his feelings are a shock, and something to be worked through. I hope that that aspect of the story will not dissuade anyone from reading this book, because honestly it has been awhile since I read such a truthful and raw tale of young love, and how confusing those feelings can be… to anyone.
At the heart of the story is a young mage named Simon, aka The Chosen One, who is believed to be both the most powerful magician to ever live, and the savior of all mage-kind (no pressure there). His roommate and nemesis Baz (who may or may not be a vampire bent on killing Simon), and his best-friend Penny, keep Simon on his expected path of fighting evil and saving the world of magic. Everyone in the story, to some extent, is caught in the middle of a civil war between different factions of the mage community, and also against the Insidious Humdrum, who is responsible for sucking up all of the magic across various parts of England. Everyone has their pre-defined roles that magical society expects them to play, but as the plot develops it quickly becomes clear that almost no one is actually who (or what) society expects them to be, and that if the world of magic is going to survive, unlikely alliances will have to be forged. Within this tangled web of shifting alliances and magical politics, I found myself almost instantly rooting for Simon and Baz to drop their animosity and realize the true beauty of what they could be to each other, if they could let go of their expected roles as adversaries.
Carry On has many twists and turns, culminating in a final battle that is both tragic and triumphant, requiring selfless sacrifice from Simon, in order to save the world of magic that he loves. My heart broke for Simon as he faced the moment of truth in battle, and then afterwards facing the consequences of his decisions and actions. However, Simon's choices and heartache, led to my favorite moment in the book (which I won't give to many specifics on, because I am hoping people will read this book!),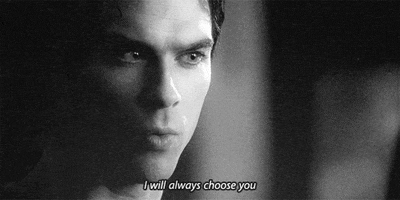 when he is told in no uncertain terms that he is loved and chosen because of who he is, not for what he represents to society. And really, I think that is all Simon ever wanted…after all, all the magic in the world could never make up for a life devoid of true love.
If you would like to buy a copy of Carry On, click here to purchase a hard copy, or here to purchase the e-book version.
Meghan is a coffee connoisseur, devoted milspouse, and exhausted momma to a three year old daughter and three dogs. She enjoys hiking, glamping, and traveling. You are mostly likely to find her reading good books in a hammock with a view of the ocean or mountains.