On the Hunt for Wickedly Awesome:
It's no secret we love books in the Hive.  It's equally no shocker that we love some YA and NA series intently.  If you read the Sweet Evil series, you likely loved drummer Kaidan Rowe like we did – I mean, who wouldn't?
But after such a successful series, it's hard to saddle up and create something new and different – and yet, author Wendy Higgins not only did something different but something completely and utterly out of left field.
It's kind of epic – you can read about The Great Hunt, which releases tomorrow, here.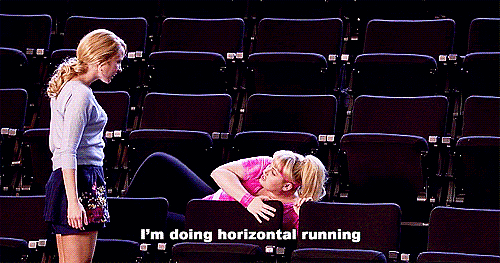 We were so enamored with this book, we asked Ms. Higgins to buzz by the Hive,  hoping she would teach us some circus-robics classes.
When she arrived, we were warming up.
We're not sure why, but she declined the class… thankfully, did stick around to answer a few questions. 😉
1.)  If you could choose one region of Eurona in which to reside, other than Lochlanach, which would it be and why?
~Toresta! It's got a moderate climate and beautiful mountains and valleys.
2.)  You are forced to spend one hour alone with either Kaidan Rowe (of the Sweet Evil series) or Paxton Seabolt (of The Great Hunt).  Who would you choose and what would you do?
~Choose between my boys?? GAH! Well, I've had lots and lots of time with my hottie Kaidan, so I'd love to have some Paxton time. I'd actually like for him to take me fishing. 🙂
3.)  The royal children have unusual talents in The Great Hunt.  What was your inspiration for this fun and unexpected twist?
~I tried to think of things I hadn't seen in many stories before–things I found fascinating that I'd like to research and play around with. Thus came various acrobatics!
4.)  Many writers say that a particular teacher or assignment really inspired them, or helped pave the way for their career. Do you have such a person or assignment?
~I don't have a particular teacher or assignment, although I do have many fond teacher and assignment memories. But I think the thing that drove me was when I'd write stories for class, or for fun, and my friends would gobble them up and rave to me about them. That made me feel so good, and it fueled me.
5.)  When you picture Aerity and Paxton in your minds, what Hollywood celebrities can you easily place in their roles?
~This is always a hard question for me, mostly because I'm behind the times on celebrity stuff. I don't watch much television. Hold please while I Google…okay, I'm back. Maybe Blake Lively for Aerity and Thomas McDonell for Paxton!
Well, that is certainly a lot to take in!  We are so glad we got to know Ms. Higgins a bit better.   We can totally see Blake and Thomas stealing our hearts as the leads in this dramatic adventure.  If you haven't yet read The Great Hunt, the hardcover is on sale today for less than the ebook!  Get it here.
Meg, AKA the Queen Bee (QB) founded LitBuzz in 2015 as a way for her favorite authors to more-readily provide books to a legitimized reviewer. At the time, she never thought it would grow to include a dozen people, hundreds of authors and thousands of reviews.
Most of the time, you can find her with a bulldog at her feet in her home office in Pittsburgh, writing content or developing brand campaigns for clients – or sneaking a quick read of a new release.
She's married to a great guy, has two amazing grown daughters and more animals than sense. 😉